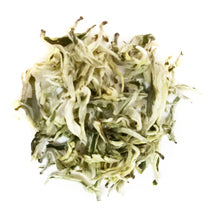 Snow Bud Tea
Da Bai Hao is a white tea harvested and processed as a green tea. This relatively new type of tea technically falls into both categories. The harvesting time in the spring is short to ensure the highest quality tea buds. 
Tea Tips
Brew with a water temperature of 160-170°F (71-76°C)
1 minute for a light taste, 2 minutes from stronger taste. Snow Bud will retain flavor for 3-4 steepings.