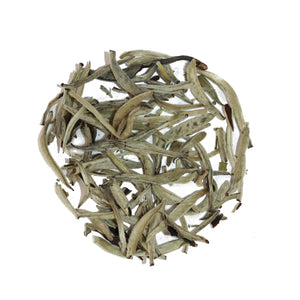 Silver Needle White
While most tea is made from both the bud and the leaves of the tea plant, Silver Needle White is almost exclusively made up of the youngest part of the tea plant - the "needles", or buds. These pure buds make this one of the highest quality white tea available, and provide an impeccably fresh flavor and lightly sweet floral aftertaste.
Smooth, Sweet, Floral
Tea Tips
Brew with a water temperature of 185°F (88°C) for 2-4 minutes.
Tea buds are naturally tender, but tough, and the fine silver hairs covering the outside of the tea buds help repel water. Because of this, Silver Needles is the only white tea we recommend using hotter that usual water, and steeping for longer than usual 2-4 minutes.